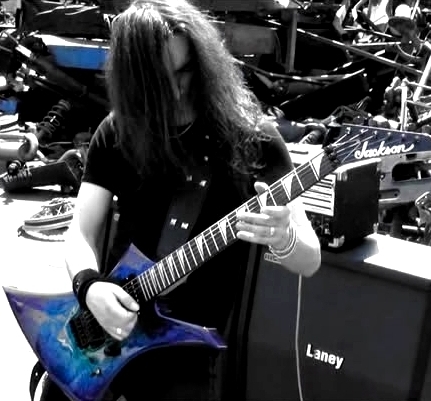 GEAR

PHOTO GALLERY
Carlo G. RIZZELLO

Birth: 1977
Instruments: guitar / voice
Equipment:

B.C. Rich Mockinbird ST (official endorsement from 2013)

link

Jackson KE3 Kelly eerie dess swirl with Duncan SH-13 Dimebucker;
Jackson DX2 with Duncan SH-13 Dimebucker;
Jackson RR3 with Duncan SH-8 Invader;
Vester argus;

Washburn N.2;

Switch Revolution;
acoustic JeffBabicz "spider";
Twin cabinets Laney fusion [4x10];

Laney Ironheart amp head;
Bugera 333 amp head.


Favoutite bands:

Deep Purple, Black Sabbath and Ozzy, Megadeth, Van Halen, Riot,
Malmsteen, Symphony X, Judas Priest, Racer X, Pride and Glory,
Whitesnake, Ac/Dc, Mr. Big, Extreme, Boston, Dream Theater,
Annihilator, Cinderella, Ratt, Rage, Dream Evil, Pantera, Rainbow,
and many, many others...

Favourite essenza songs: all!!!
Other activities/hobbies:

He's an agronomist, but his favourite activity is to listen any type of
hard rock/heavy-metal music. Since 1998 he plays guitar in an acoustic trio...